The process of building or rebuilding your website can be a long and complex one. Not to mention that there is always a particular fear that your website might mislead, or worse – completely turn away your potential visitors by remaining live until the re/building process is finalized. But here's the good news! Even though your website is still in the process of being prepared to launch, your visitors don't have to witness the awkward in-between phase first-hand. What do we mean by that?
We're glad you asked. There's a simple solution in the form of WordPress plugins that can create an excellent barrier, so to speak, between those who visit your website and the work that's being done. They're called 'coming soon' or 'maintenance' pages. Their primary purpose is to ensure that your website remains presentable for your visitors, as you're busy doing your diligent work behind the scenes.
Now that you're familiar with maintenance mode plugins for WordPress and how they can work in your favor let's look at our top three picks that will leave the best impression on your visitors until your website is fully functional again.
1. UnderConstructionPage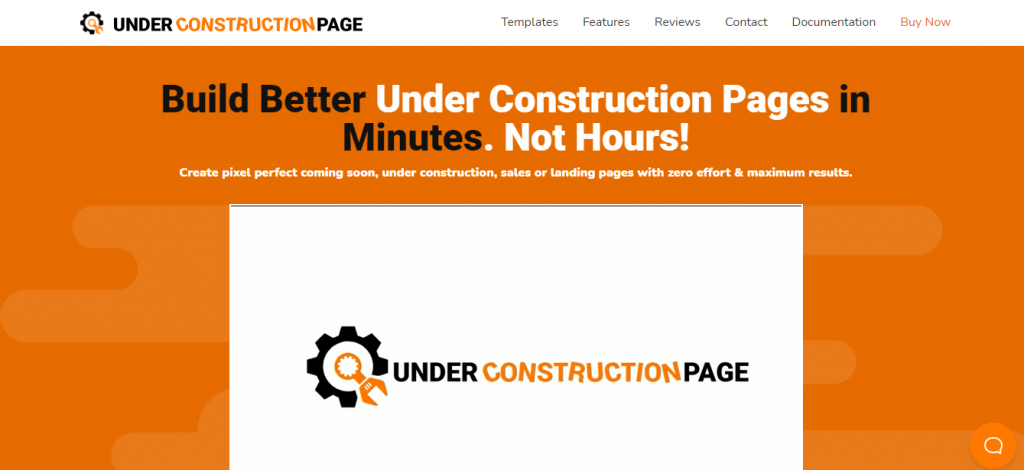 With the help of the UnderConstructionPage plugin, you'll be able to put your website into maintenance mode quickly and efficiently. This popular maintenance mode WordPress plugin is one of the most widely used and well-supported plugins today. What's so great about it, you wonder? Well, it's highly user-friendly and fast, which allows any WordPress user – even beginners – to set it all up in a matter of minutes, which makes all the difference.
We most love this plugin because it's exceptionally feature-rich, meaning it goes beyond mere display, leaning to full-on marketing. It allows you to collect user emails reasonably quickly, helping you communicate with your visitors regarding the current restructuring of the website and keeping them in the loop.
As already mentioned, another excellent feature that the UnderConstructionPage offers is a maintenance mode switch-off date and time, meaning that it does the work for you. Also, we love that the fact that it's fun, functional, and has a massive collection of astonishingly good-looking themes for your page, all of which you're able to customize even further with CSS.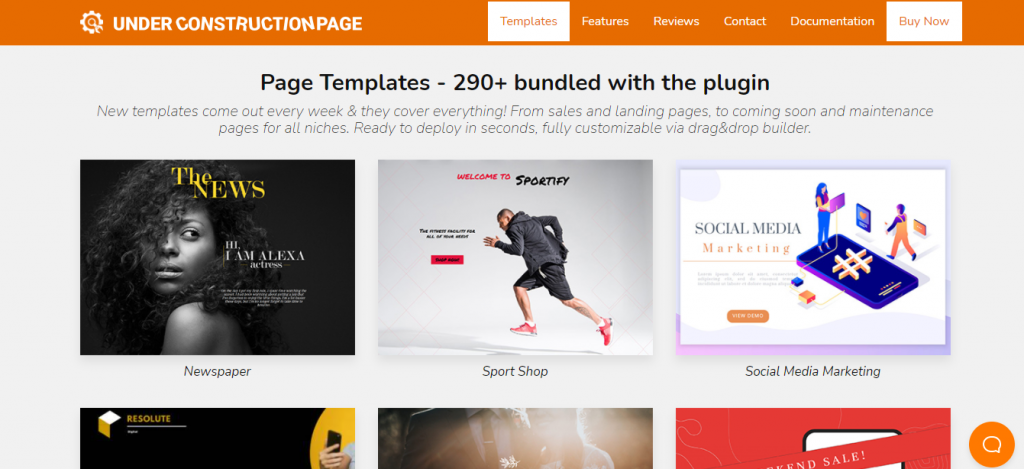 This plugin offers enjoyable graphics, leaving room for customization for the taglines and greetings, it's user-friendly, and the implementation process is a piece of cake, offering a great landing during those often-necessary periods of maintenance.
Additional noteworthy features:
Enable tracking with the help of Google Analytics
Loads of beautiful themes to choose from
Custom CSS – helping you customize the appearance of your site
Social media links
Whitelisting for specific user roles
Simple, straight-forward, with a no-brainer setup
2. Coming Soon & Maintenance Mode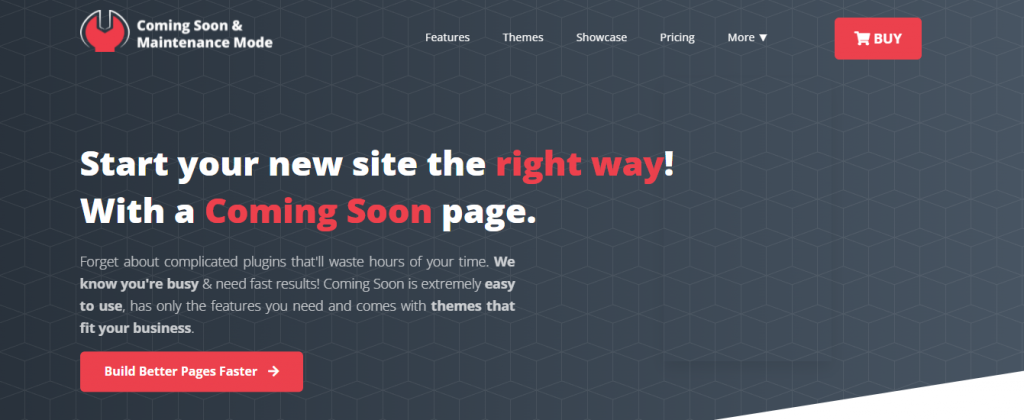 The best things you get with the Coming Soon & Maintenance Mode plugin are simplicity and complete flexibility. It's multi-purposeful in a way that you can use it to create maintenance mode, launch page, coming soon, or a beautiful landing page! This simple plugin works seamlessly with any WordPress theme, and it allows you complete control over the front end of your site.
One of the best parts of this plugin is its themes. It has a great number of them available which are sure to fit your style and overall design. So, whether you have a travel, cooking, or fashion blog, you will find a suitable theme for yourself.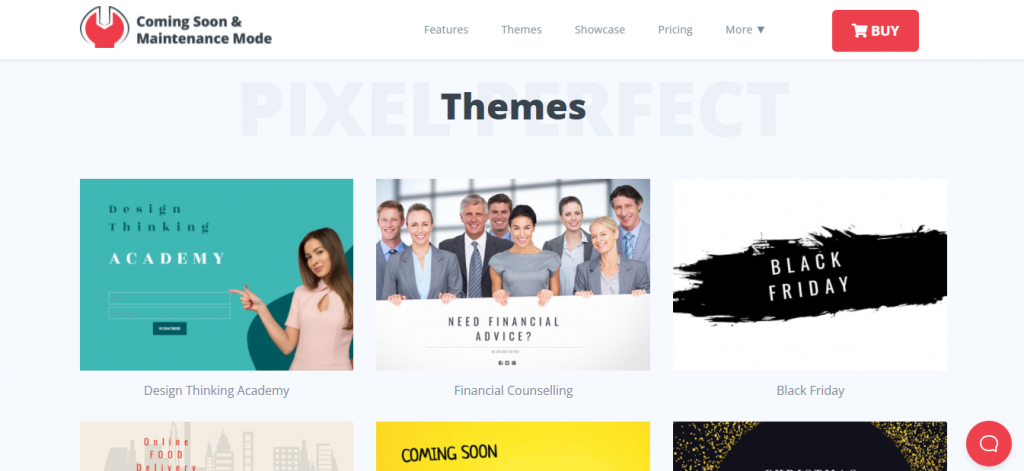 You can easily modify any aspect of this plugin according to your needs while ensuring that the page is available for search engines and that your visitors know that something is coming and you're still here. It has several easy-to-use tools, a big field for custom CSS, and a neatly organized layout. All of this makes it the perfect choice for business owners, designers, developers, photographers, bloggers, and anyone who sells online.
What we love most about it:
Convenient drag & drop page builder for additional ease of use
A great number of different design features, animated and video backgrounds included
Subscribe form module – helping you collect leads
Autoresponder and emailing services
Works seamlessly with all WordPress themes and plugins
Completely customizable look and feel
The PRO version includes over two million premium images
3. Maintenance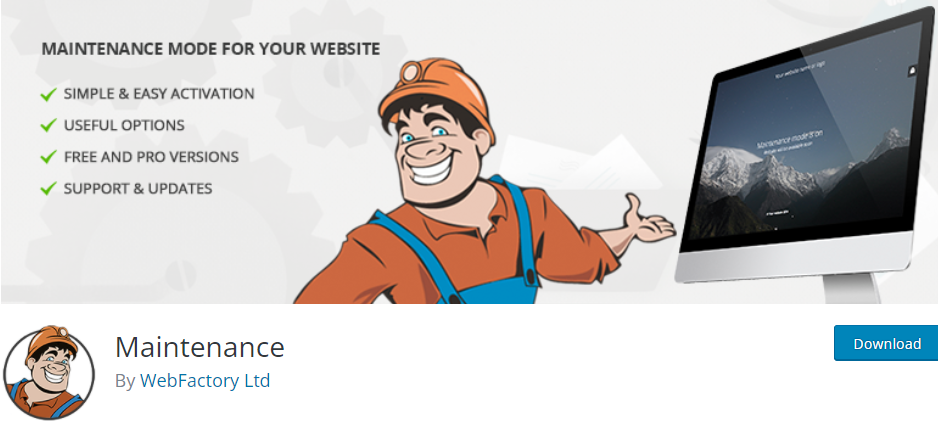 When your site is unavailable, the Maintenance plugin will help you display a completely customizable and user-friendly notice allowing your visitors to have access still. At the same time, you safely perform the needed adjustments for your site. What does this plugin offer?
For starters, you get excellent customization options letting you have complete control over the appearance of your site, and you can easily customize it on all devices. You can add your logo, background image of your choice, select the desired color, and add text. On top of that, we particularly love the multi-language feature, which offers translation options for 25 languages.
Maintenance allows you to effortlessly manage the front-end of your website while it's undergoing the necessary changes. All in all, with it, you get simple and easy activation, lots of valuable options, integration with Google Analytics, and many great themes to choose from.
Notable features:
Completely customizable page when your site is unavailable
The ability to configure everything from colors, background, icon, logo, to all other visual elements
Blur background effect
Customize your own title, headline, and text
503 error on/off option
Google Analytics integration
Retina-ready HTML/CSS layout
Full-screen background (Backstretch)
Choose Your WordPress Maintenance Mode Plugin
At some point, you're going to need to take your website down for many reasons. And as you work out the kinks behind the scenes, it's always a smart move to inform your users what exactly is going on and why they currently can't access your site.
If you don't, there's a strong chance that it might negatively impact your SEO, relationships with your customers, and, quite frankly – your bottom line. Fortunately, with the help of a WordPress maintenance mode plugin, you have the unique opportunity to display a feature-rich, responsive, and mobile-friendly page. At the same time, your visitors patiently wait for what's to come.
All of the plugins mentioned above will help you with just that, leaving you worry-free as you set up or redesign your current website. The best thing about them? You can grow your email list and connect with visitors who are eager to become part of your community by showcasing your social media links on the page as well. Test one of these hassle-free and convenient WordPress maintenance mode plugins, and continue to grow your website as you provide it with the necessary touch-ups.