With many innovative businesses, choosing the best explainer video software might be challenging. Our job in this article is to help you pick the right one for your business, regardless if you're a newbie looking to get some video marketing ideas or a seasoned professional. An extra pair of helping hands never hurt.
To help you pick the finest explainer software for your purposes, we've created a list of the five best ones out there. They all have the same main purpose, but their features and pricing plans differ greatly to ensure you'll get what you need. So, without any further ado, let's get into it.
1. Visme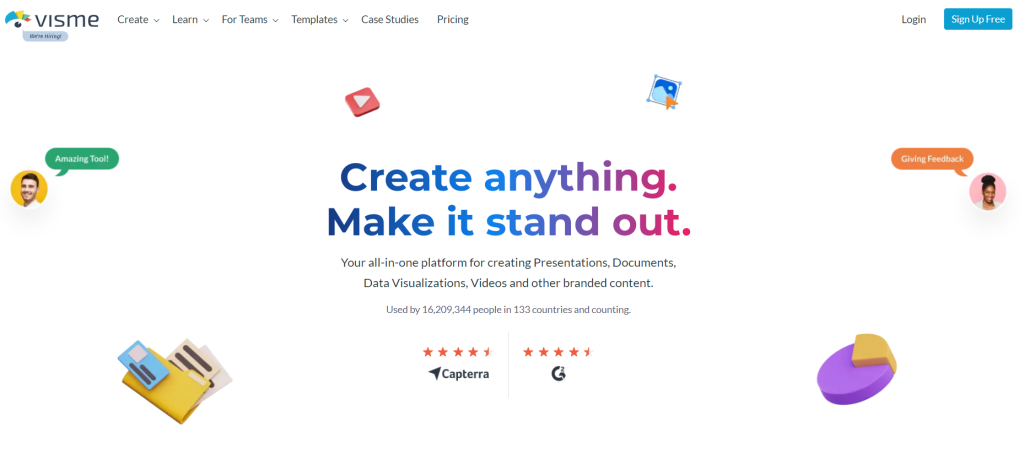 Visme is a visual content production platform and a drag-and-drop animation program. The visual richness of this tool is further enhanced by the abundance of backdrops, components, and animation effects.
The best part is that you can make animated explainer videos with completely customizable characters. Make sure to use your Brand Kit to add watermarks and create branded videos tailored to your brand.
Visme can ensure the color schemes and typography in your explainer videos are consistent with your brand. The software is also simple to use, even without prior experience. The Visme Blog provides many lessons and articles if you need assistance with design and layout. The only thing you need is creativity.
2. Biteable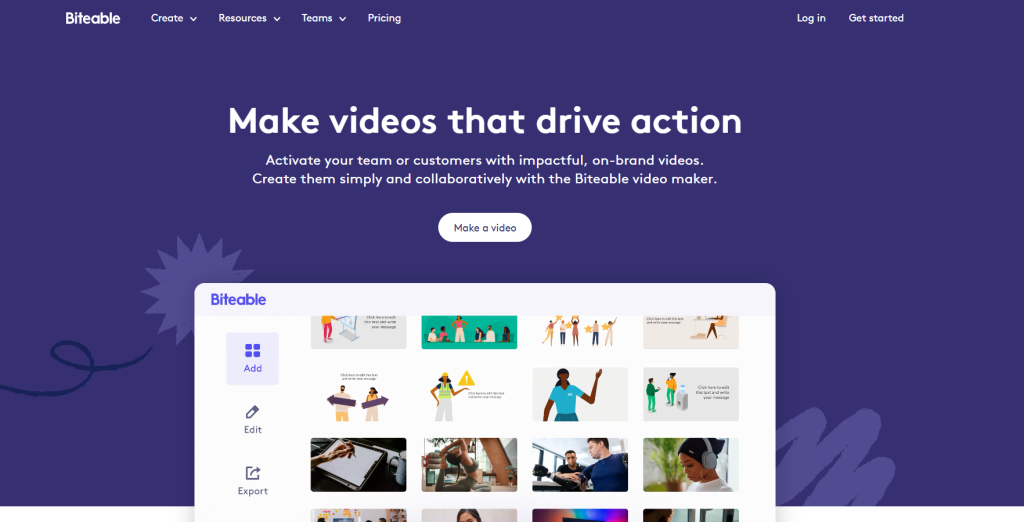 With Biteable, marketers can "create movies that drive action" more easily. You can start by uploading or selecting clips from their content catalog to add to your video using the drag-and-drop video editor. Almost every aspect of the animation is customizable; even the animations' colors can be customized to fit your brand's unique color scheme.
The whole process of creation can be made a lot simpler by using Biteable's extensive menu of video templates. You can use the platform immediately without going through tutorials because it's super user-friendly and has virtually no learning curve.
Once your storyboard is prepared, Biteable will allow you to record, edit quickly, and create your video. Biteable offers a paid-plus plan for $29 a month or a free plan.
3. Wideo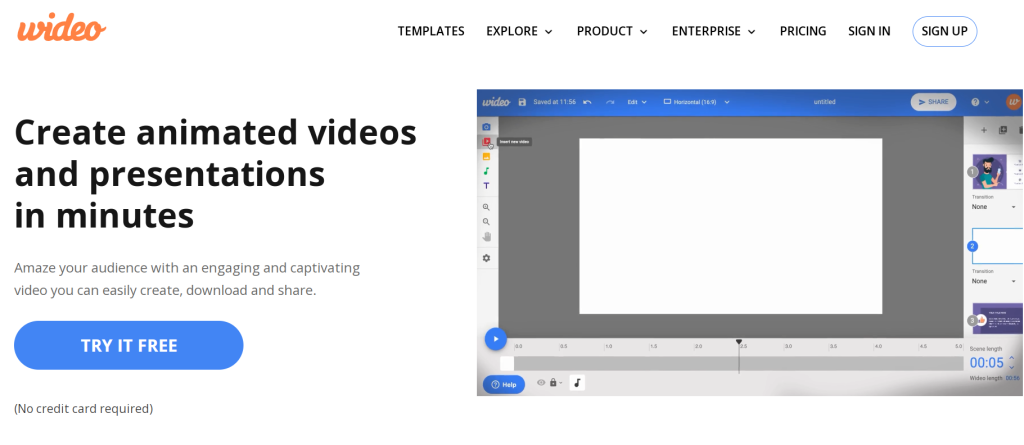 Wideo employs cloud-based tools to help you create the best videos you can. Since everything is saved online, a strong internet connection is required to get the most out of it. There are several pre-made templates available for editing.
Or, if you're not keen on working with templates, you can use their feature-rich editor to create a video from scratch. Creating great videos is possible with Wideo's free plan, but as one might expect, there are a lot of restrictions. There are no downloads and a 1-minute duration limit for videos.
There are ten templates available, covering most requirements. So, if you want to use this tool professionally, you must opt for one of their paid plans. Their entry-level premium service, which costs around $230 a year, offers unbranded videos that are no longer than 90 seconds.
4. Raw Shorts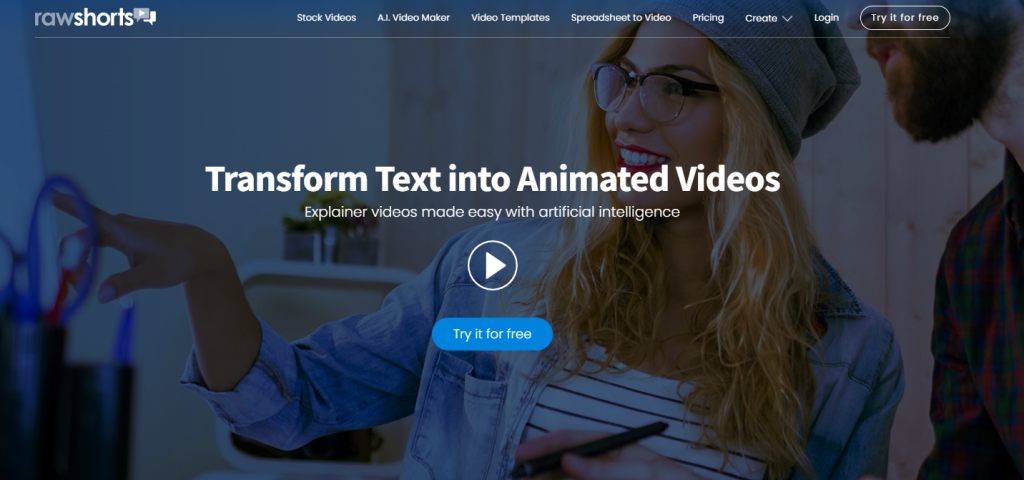 Another kind of explanation video creator is Raw Shorts. Users have four various methods to create videos, one of which is AI generation. It's a nifty feature for those looking for something quick without looking amateurish.
The storyboard wizard and brand capabilities of Raw Shorts that allow you to make films from the text are by far its best features. You can make an explanatory video quickly using simple text. Additionally, you can either choose to design a video from scratch or by using pre-made designs.
There are three sizes of pre-made templates: horizontal, square, and vertical. There are four pre-designed templates: comprehensive explainer templates, personal scene libraries, whiteboard templates, and scenes. You can enter text content or the URL of an existing blog post to use the text to video AI. The program will automatically produce a video. Then you may customize it and post it on any social media you want.
5. RenderForest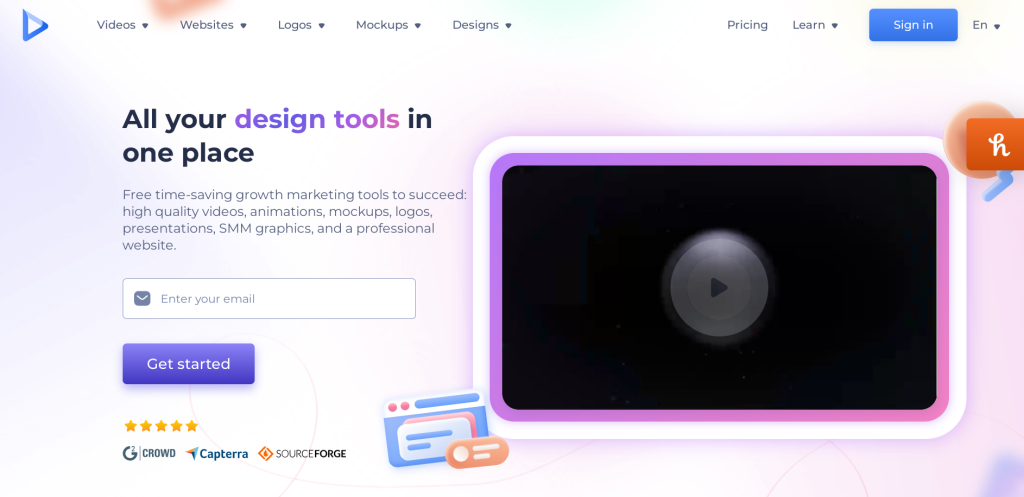 RenderForest, like RawShorts, employs artificial intelligence to help you in making the ideal explanation video. There are many different templates available on RenderForest, all with entertaining animations.
These keep viewers engaged, so you can use the video to instruct and amuse them. 360p video exports are limitless under the free plan. Anything larger will be low-quality, but it will work for small banner animations and GIFs.
For less than $120, the Entrepreneur Plan offers 20GB of storage and videos up to 15 minutes long. The maximum length of a video created with the free version is 3 minutes, which is more than enough for most explainer videos. All videos will have the RenderForest watermark, severely restricting what you can do with them. You'll also be able to remove their watermark or add your own.
Wrapping Up
Every company should have explainer videos as assets. Your prospects are actively looking for stuff like this.
The perfect explainer video can effectively communicate what you're offering and raise customer awareness of your business. In the end, it could boost sales and conversions for your company.