Are you having trouble managing your social media? If you are an entrepreneur, small business owner, or creator, you create a lot of content to market your online business daily. You probably struggle with organizing, publishing, and scheduling all of that content.
Social media management tools are there to help you display your content without too much trouble. However, there is a way to make your life easier. This article will find out about the top ten social media management tools you need to check and use for your business.
1. Hootsuite

Hootsuite is one of the most well-liked social media management tools that counts over 16 million active users. It gained popularity with small business owners because of how simple it is to use. You can quickly and effectively manage social media content.
Hootsuite made scheduling and posting your content on different platforms a simple task. They also provide multiple educational resources that can help you use social media even better, and there are five packages you can choose from.
2. Loomly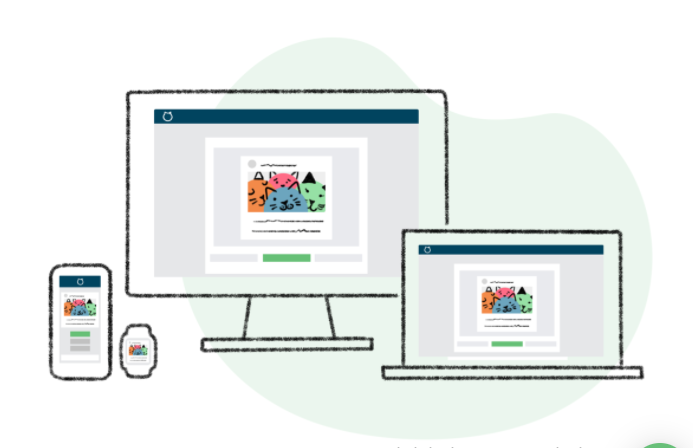 If you have a team of people, Loomly has features that can help you organize it better. It offers an easy-to-use review and approval workflow, which are built into the tool. It will help your entire team to be efficient and organized. If you have trouble coming up with new content to post, Loomly will recommend content based on current trends.
This social management tool is straightforward and intuitive. It is built with marketing teams in mind and is project management and social media scheduling combined into one. You can set different calendar workflows and get notified every time someone in your team updates them. You can also begin a post from scratch and create a base copy before you customize details. Loomly price ranges from $25/month to $249/month. 
3. Sprout Social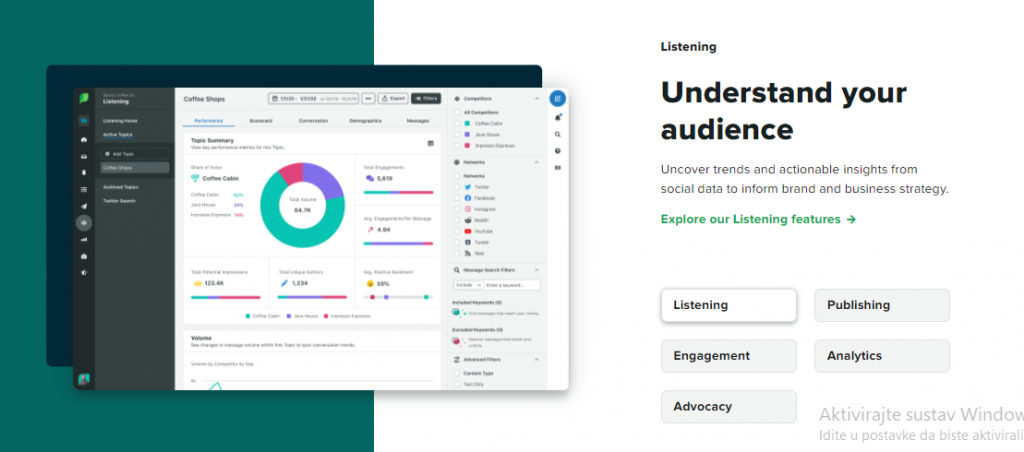 Sprout Social is one of the largest and most comprehensive social media management tools. Some of the features it offers are post-publishing and scheduling, reporting and analytics, engagement monitoring, and social listening.
These features are comprehensive and provide an organized experience when it comes to managing social media. They will help you build your online presence as a whole. Sprout Social offers three different pricing packages, which differ based on what you need from this platform.
4. MavSocial

MavSocial enables you to bulk schedule your content and reports functionality. It concentrates on the visible side of social media administration with a stock library, unified image editor, and managing a digital asset library.
MavSocial also offers an AI image recognition that can help you organize and manage your photos. Plus, you can download a phone app and use this social media management tool while on the go.
5. Buffer

Buffer is another excellent social media management tool that a lot of people are using. With it, you can easily schedule content for a lot of different social media. It will post your content automatically, and there are four plans from which you can choose.
You can opt-in for a free plan that allows you to only connect to 3 social media channels. The Pro plan costs $15/mo, and you can connect eight social media channels and schedule 100 posts. The premium plan is $65/mo, and you can schedule 2000 posts, while the Business plan is $99/mo, and you can connect 25 channels.
6. Agorapulse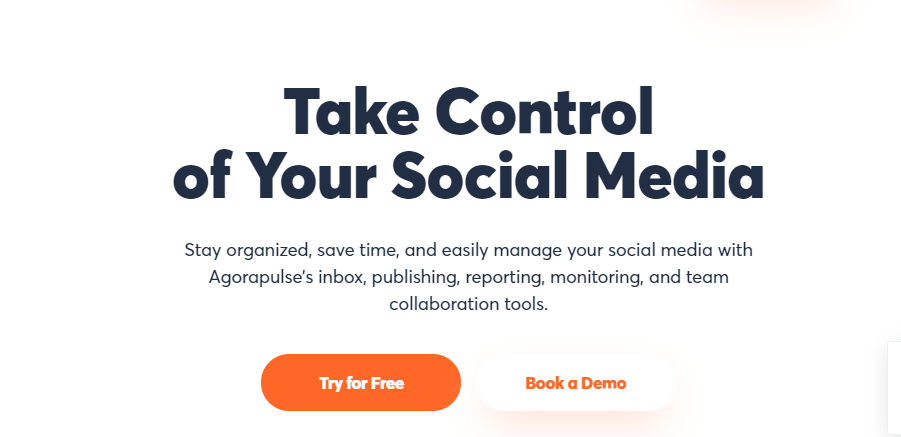 Agorapulse starts from $79/month to $399/month. The main difference between the packages is the number of profile users. You can use this social media tool to publish, engage, listen and report with your social networks. You can connect Facebook, Twitter, Instagram, Linkedin, YouTube, and so on.
In addition, Agorapulse features a built-in CRM that allows you to label your audience into segments quickly. You can easily track which followers are most engaging. It also allows you to schedule and reschedule evergreen posts and tweak each post to take advantage of features specific to each social media platform.
7. HubSpot

HubSpot has everything you need to market, sell and service your customers. It is a free all-in-one CRM platform perfect for both small businesses and already established ones. With their features, you will be able to attract more people by creating and sharing helpful content.
Sales Hub allows your sales team the tools they need to sell in a more personalized and relevant way. There is also a Service Hub that will help you engage and connect with your customers. Finally, you can easily connect it to another tool to make it even more efficient.
8. Promo Republic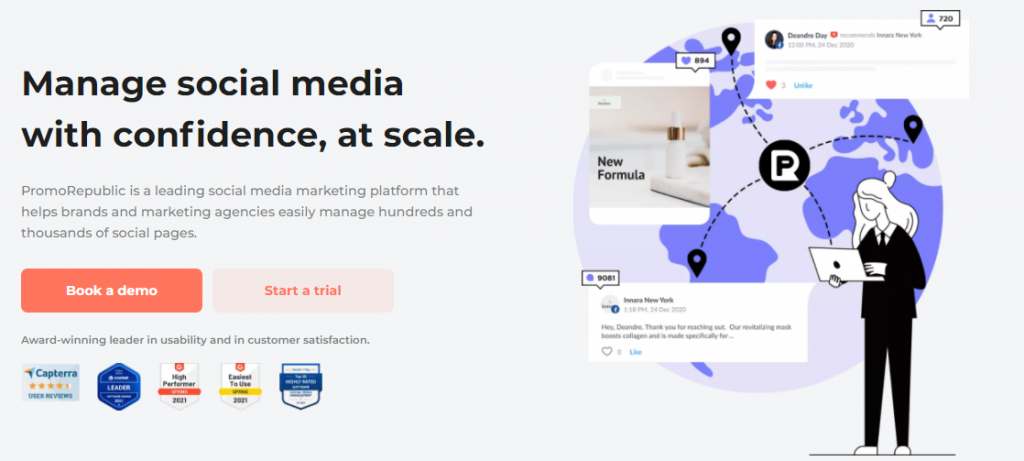 Promo Republic is a full-scale social media management platform. It works for both small businesses, agencies, and larger companies and provides a very visual experience. The platform integrates Pinterest, Linkedin, Instagram, Twitter, and Facebook.
Moreover, it allows you to recycle successful posts. It also gives you access to a post library with over 100,000 posts. Plus, Promo Republic provides graphic editing tools to help you create better content for your social media, including all the reporting and analytics you would need.
9. CoSchedule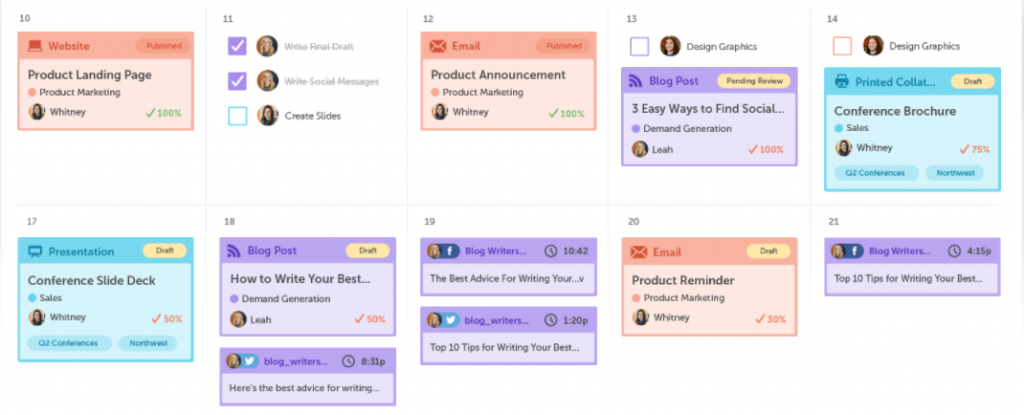 CoSchedule has features that are usually only available in high-end social media management platforms. There is grid access, but you can also switch views and see your posts in a list form. You can click on the Create button and select what kind of post you want to create to schedule a post.
You can also add a task, a calendar event, a note, duplicate a project, or bulk upload social media content. Another great CoSchedule feature is that it syncs up with WordPress, meaning you can draft WordPress blog posts and have them connected. It also allows you to set up a social media campaign that then shares that blog post multiple times throughout the months.
10. HelloWoofy

HelloWoofy is an entirely free social media management tool that offers different unique tools and features. It is popular because of its data science or AI capabilities, which allow it to find and curate unique content for your business.
Everything on HelloWoofy is AI data science-based. You can do different things by automating and autocompleting social media posts, saving you time and energy. Anytime you are looking for quotes or hashtags, it will use data science to find it for you. You can also integrate different graphic design and graphic-based platforms.
Conclusion
Now that you learned about the top ten best social media management tools, it is time to choose some of them and start publishing your content. Each of these tools has different features that might be right fr your business. They will help you stay consistent and organized. Social media holds great power for your business, so don't overlook it.