Backlinks are crucial in all things internet-related. They are crucial for SEO, and thus, they are what helps your site make it to the top of the search results. Naturally, this affects your traffic, conversions, and everything affiliated. Google pays special attention to backlinks, so you might as well take good care of yourself and improve your SEO.
External linking is a term that describes the fact that a website is linked to yours and that your website is linked to another. What even are external links? They are links that point to another domain. The former falls under the term "inbound link," also known as a "backlink," and the latter under the term "outbound link."
Why are they so important? Because your website's search engine ranking depends heavily on external linking. Way more than you would think. You can compare those links to independent seals of approval by search engines, relying on how people talk about you and endorse your website. Since the launch of Google, external linking has been an essential part of it, significantly affecting general rankings.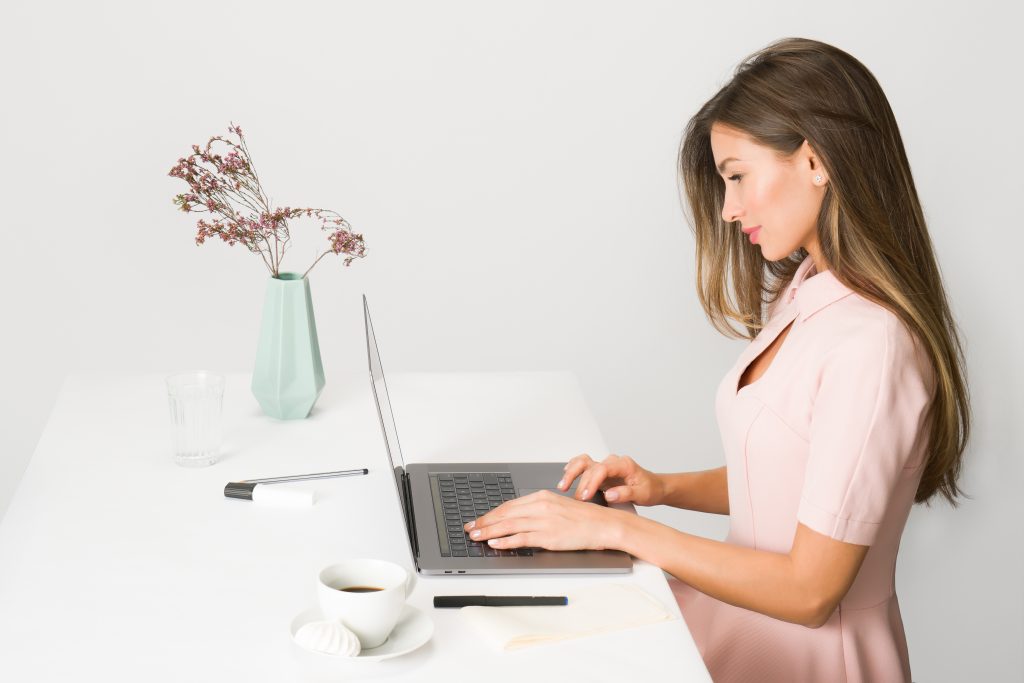 External links increase the overall visibility of your site by assisting Google in zooming in on the relevance the content on your website has regarding some particularities and level of your site's reputation. Of course, this can very well lead to a push as far as your website ranking goes.
Secondly, external links can better the users' experience. That's because you can help your website visitors encounter some extra information relevant to whatever they want to focus on. This happens by linking to another site since they can combine the information they found on both. With the help of external links and the abundance of details they are interested in, they are sure to revisit your website to get some more valuable content.
Furthermore, if you link to other websites with an excellent reputation, you might get a backlink from them. This assists you in creating a good network of links. Now that's an excellent strategy for pushing your website's ranking up and making your way to the top of the result pages of search engines.
Each link can be modified individually. However, the average or even a smaller site has thousands of links. This makes it almost impossible for you to manually alter every one of those links. Or at least makes it an extremely difficult job requiring many people to work non-stop. However, you are lucky because this is where the WP Links plugin comes to your rescue.
External Links in the WP Links plugin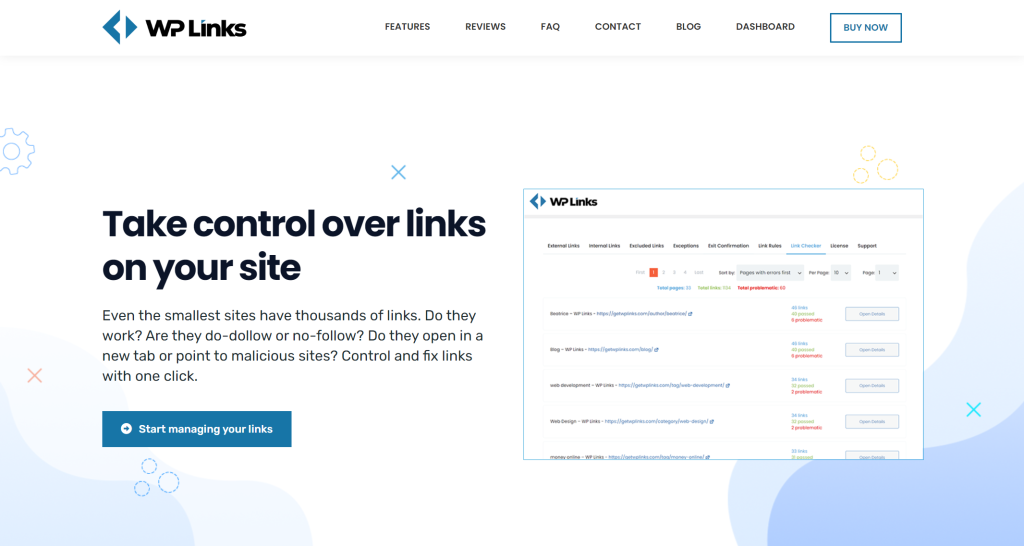 The WP Links plugin offers many nifty features concerning external links on WordPress sites. First, it has a centralized dashboard, where all your brands, licenses, sites, and purchases are contained in one place.
So, if you want to organize those, especially if you have many of them on your hands, this feature saves you a lot of time and nerves. It also provides safety in that you are certain no one is using your licenses without knowing about them. The license can be reused on another site without any problems, too.
The plugin provides you with the option to set more advanced link rules. With this help, the fact that you want to have your links exactly how you want them to is not even in question. Since you can customize the links in detail, including managing your REL and TARGET attributes without worrying about how many links your website contains, it greatly boosts your website's SEO.
Another thing that does the same trick is setting the REL and TARGET correctly, keeping numerous link attributes in mind, so you take maximum advantage of the links to improve your SEO as much as possible.
All of the general modifications you make to the links and the site (as in the content, files, and whole database) are not permanent, either. You can revert your changes with a simple rollback with plugin disabling. It's as easy as that.
Another very useful ingredient of WP Links is the Link Scanner. This makes inspecting links a dream as it automatically surveys the site for any broken links it might contain, whether they are internal or external. In addition, it checks if the REL tags are in order, and you can even look at where exactly a link is leading.
Exit Confirmation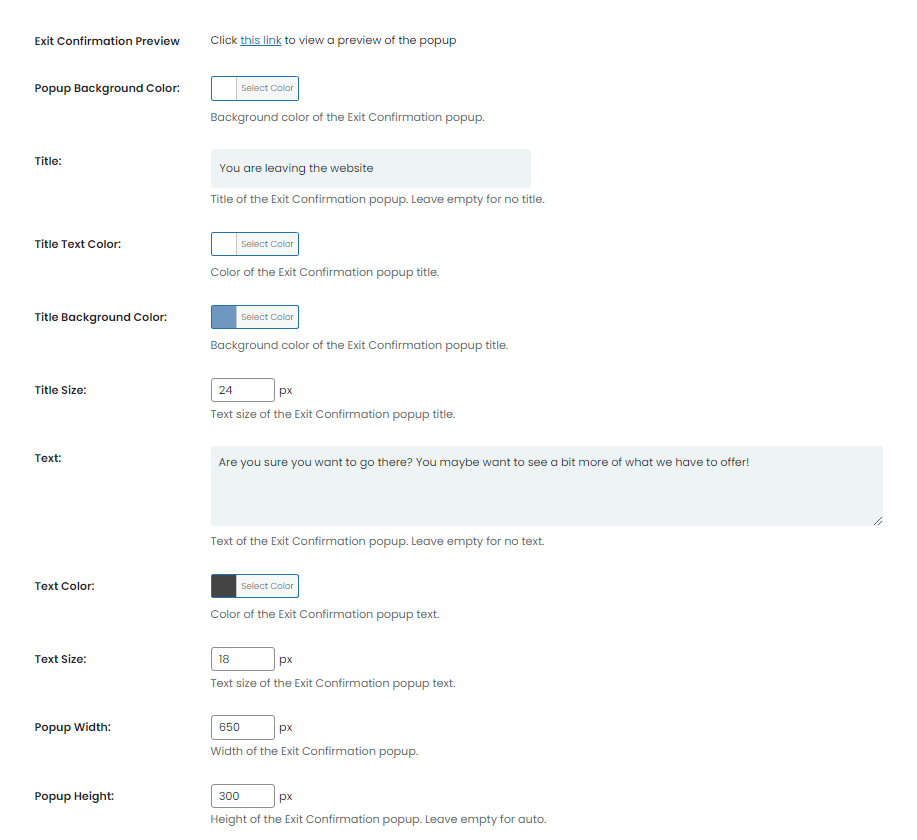 You can turn it on as easily as ABC. Simply click the tab in the plugin's menu, and it's done. Plus, the popup can be customized, including the text, the size of the font, the color, and the size of the whole popup.
You can even set an Exit confirmation for the website that appears to any user that clicks an outgoing or external link. Your visitors will appreciate this as it warns them that they are exiting your website since they have clicked on a 3rd party link and are heading onto another site.
Before you set all of that up, you can get a preview of the popup you are working on, so there are no surprises before you choose to get it running.
Link Rules

Making rules that apply to your website's links is a piece of cake. The plugin can note links containing specific keywords, which can then be used to set the rules as you deem fit.
For instance, the plugin recognizes all URLs that include the word "tree," so you can attach a certain icon to every link that contains that keyword.
To exemplify, you can attach a dofollow or nofollow attribute to a link, including or excluding an icon.
Conclusion
WP Links is the easiest solution to many of your external link problems. Installing and using it is easy, and you don't have to know how to code or be skilled to take great advantage of its features.
Even if you have any issues with using the plugin, the WP Links' support team is at your service and will offer any advice or help whenever you need help.