If you own a company that employs shift workers, scheduling software is an absolute must. Since you need to have enough staff working at all times, taking sick and vacation days into consideration is vital. You'll also want your personnel arrivals and departures to coincide so that you don't run out of people during transition.
Your workforce's potential will be maximized if you employ the right people. People with the right talents, in the correct ratios. Scheduling has to take priority to keep expenses down and optimize profit. Any respecting business owner or manager must consider their staff's availability, desired working hours, POT, and vacation days while trying to avoid overstaffing. The answer is employee scheduling software.
What Is Employee Scheduling Software
A staff schedule is simply a spreadsheet that lists the day, time, and duties each employee is responsible for. It shows the shifts you've assigned and the hours your team has set aside to do the project.
It is important to have such a document since it helps you make the most of your resources. You can ensure that your working shifts are always covered, develop contingency plans if someone calls in sick, and keep an accurate record of salaries with a well-organized staff calendar.
It saves you money by avoiding the cost of a last-minute replacement, which normally adds to your labor costs.
1. When I Work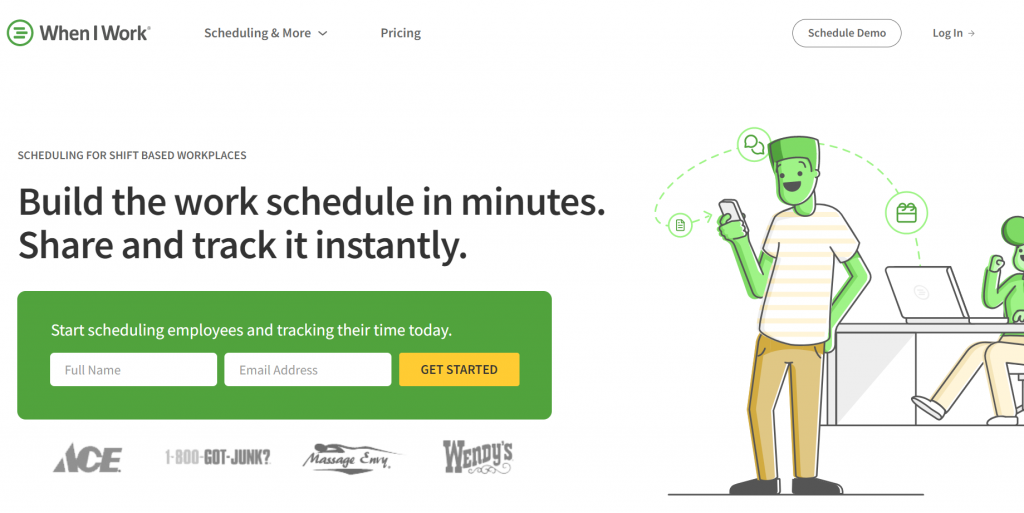 When I Work's free edition is more than enough to give you an idea of how useful this software is. It comes with everything you need, team communications, time off requests, shift trading, and OpenShift management, which lets you give employees shifts without assigning them directly.
The scheduling tools are far more robust at the higher subscription tiers, allowing you to arrange shifts at multiple locations and make plans for transit. You'll also get access to overtime visibility, 10-day scheduling, shift bidding, and other tools to help you uncover problems and optimize your operations.
When I Work makes it simple for people in charge of scheduling shifts and projects to keep track of employee requests, create reminders, and negotiate other limits. As the schedule changes, drag-and-drop time blocks update in real-time, keeping everyone on the same page.
2. Connecteam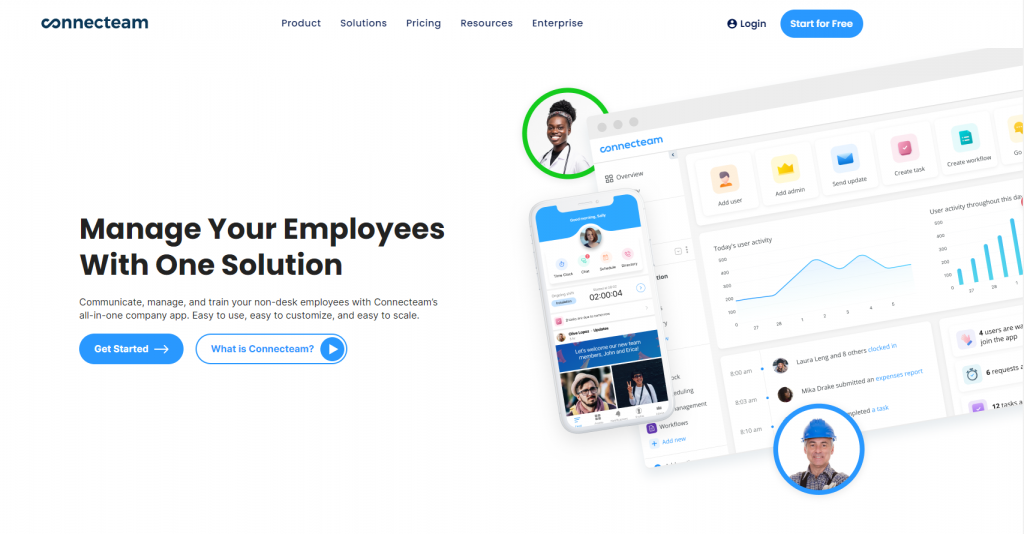 Connecteam is a comprehensive platform that provides various options for managing your staff effectively. You can quickly establish single and team shifts, communicate with your staff via app chat and automatically keep track of timesheets.
Your employees will receive reminders as you change tasks, evaluate shifts assigned to them, and start clocking hours with the integrated time tracking tool. They can also use the app to create easily accessible forms and give you digitally signed reports. It's a handy feature that lets your staff do on-the-spot inspections, add photographs, and provide inventory stock or inspection reports.
Connecteam also allows you to give recognition and awards to your employees to recognize their accomplishments and work on building team spirit. It fosters a good culture that makes your employees happy, resulting in a higher employee retention rate.
3. Humanity
Humanity, one of the most popular staff scheduling software products on the market, guarantees that everyone knows when and where they must be. It provides employees with the ability to manage their accounts using a user-friendly mobile app.
Thanks to the flexible shift planning board, supervisors can examine the schedule according to their preferences and needs. They can exchange shifts, request time off, and check their upcoming schedule as changes are made without a phone in. As a manager, you can also use advanced filtering tools to remove or add data layers as needed.
When you click on a shift, the Shift Edit box appears, allowing you to see who else is working and which shifts overlap. You can also fine-tune specifics, which will be texted to the appropriate staff.
4. Snap Schedule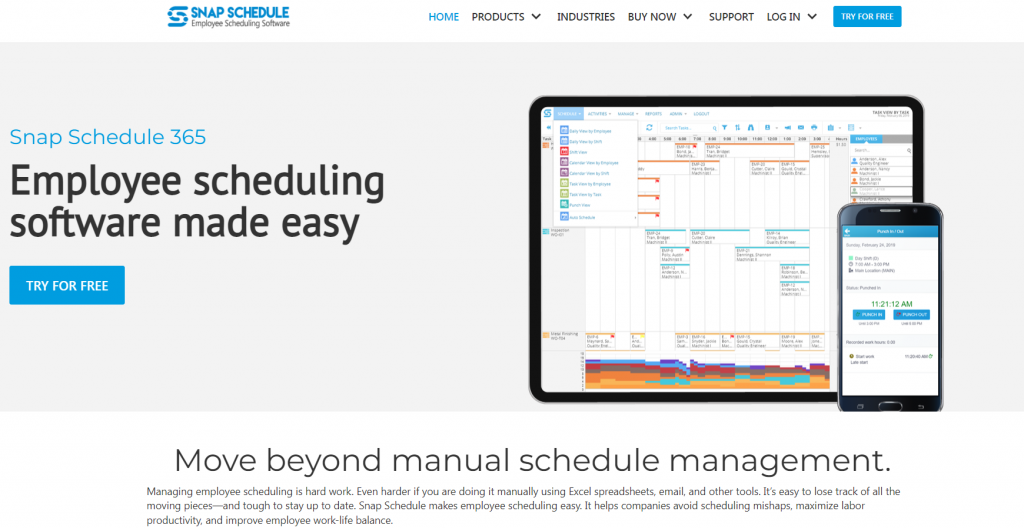 Snap Schedule is designed primarily for the service industry and includes useful elements for creating an optimum shift schedule. You can quickly record salaries by automatically filling up your weekly company calendar, assigning assignments to the appropriate employee, and tracking time.
It helps you keep track of daily shifts to see who has arrived on time and who is running late. Your employees can also use it to check their availability, examine their schedule, take on extra work, and request time off. This increases openness between managers and their teams while giving your employees more work freedom.
Snap Schedule also provides reports with a comprehensive view of your workflow, allowing you to plan your budget and ensure that your shifts are compliant with local legislation.
5. TSheets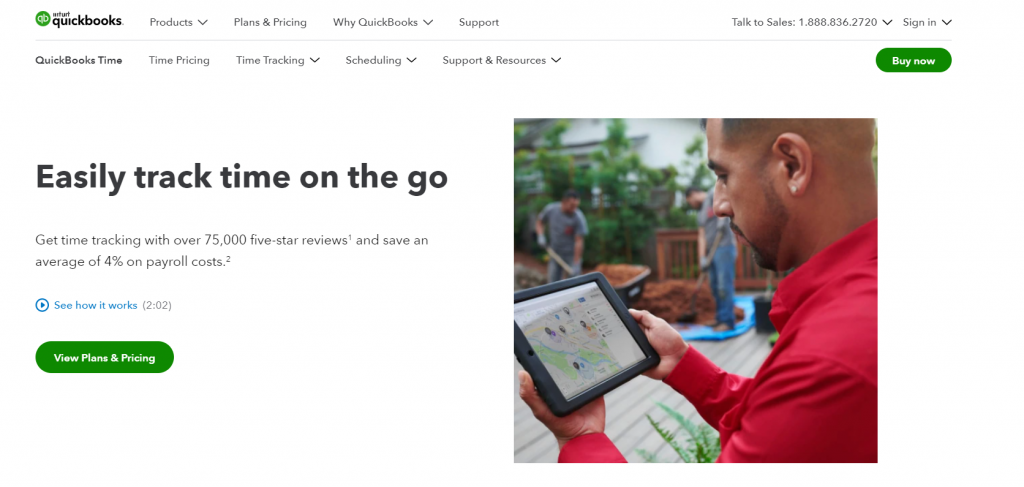 Employees adore using TSheets, a complete employee scheduling and time management application with a mobile app. Its sole purpose is to succeed in these two categories, making it one of the best options on the market. Plus, it comes from the creators of Quickbooks, so if you're already using that app for your finance, why not connect the dots?
TSheets are quite simple to use. Employees will have little problem getting set up, and you will notice a decrease in employee-touch payroll duties almost immediately. With a clear dashboard that refreshes in real-time, accounting can work quicker and better understand what's happening day to day.
TSheets are a little more expensive, but it's a fantastic investment for those that require comprehensive reporting and monitoring tools.