What is uptime monitoring
Uptime monitoring tests the availability of your website and its applications and servers. This system works in the background to check if your website works properly.
Why are uptime monitoring tools beneficial for the website
Uptime monitoring will let you know if your site is down so you can take measures to resolve the issue
Sends automatic messages in case of new outages
Historical reporting on outages
Identification of the cause and the type of outage
Monitoring of the global downtime
Best Uptime Monitoring Tools
CheqUptime
This best uptime monitoring tool is perfect for developers, remote teams, small businesses, solopreneurs, and web developers. CheqUptime was built by solopreneurs for solopreneurs and small teams.
The team behind the tool claims its mission is to inform website owners to 'ensure you avoid losing revenue or customers.' CheqUptime monitors the software, notifies webpage owners in case of emergency, and allows them to create status pages.
The tool monitors 100+ websites 24/7 and allows users to track their Cronjobs. CheqUptime sends notifications on Slack, Discord, Telegram, SMS, or email in case of an emergency.
My Website is Online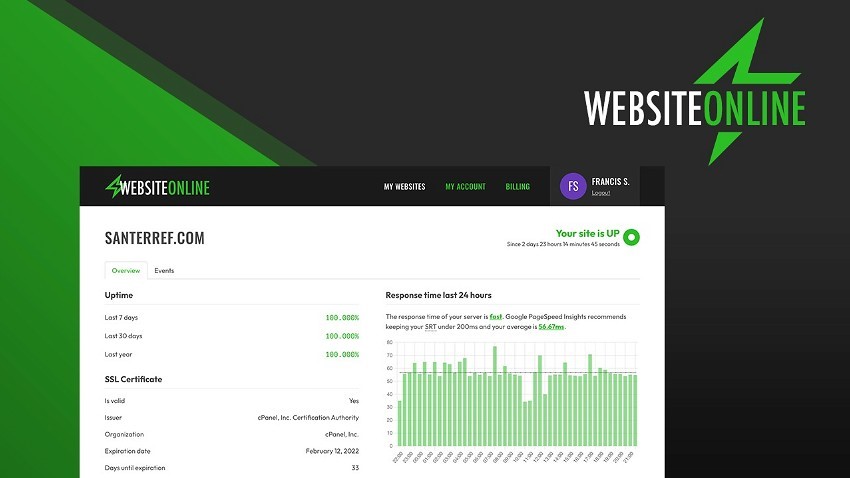 This uptime monitoring tool is the best option for customer support, consultants, and remote teams. My Website is Online allows users to create unlimited monitors, with each monitor having its own interval.
Additionally, the tool checks the following:
HTTP(s)
HTTP(s) with matching text
TCP port
Ping
DNS Records
It also informs website owners in case of an emergency. The notifications in case of an outage can be set up for SMS, email, or Slack. The tool can also check response time (TTFB) and SSL certificate date of expiry.
Finally, My Website is Online prepares integration with Zapier, domain end, backup monitoring, and reporting.
Uptimia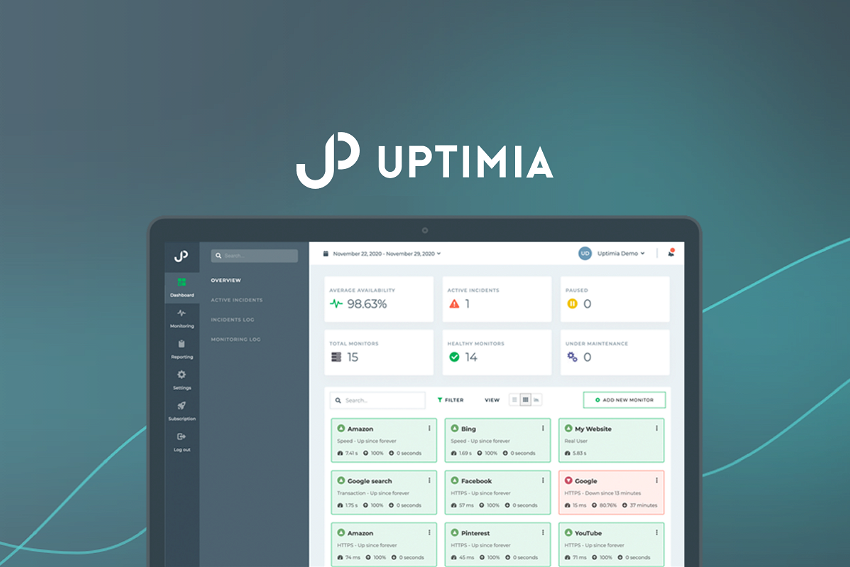 If you are in the eCommerce niche, small business owner, or product manager Uptimia is the best uptime monitoring tool for you. It has integrations with Slack, Discord, Microsoft Teams, Telegram, Webhooks, and Whatsapp, and you can receive alerts to any of the apps in case of an emergency situation.
With Uptimia, website owners can choose the frequency at which they want their site to be checked. They can pick as fast as 30 seconds, and Uptimia will watch the website with 171 probes scattered across the globe.
Once the system detects the problem, it can triple-check the website and the issue from different locations. Plus, with Uptimia, you can also test specific functionalities or create display public status pages. These pages would show up in case your website is down.
Many features make teamwork easier. Some of them are on-duty alerts or customized teams where you can assign tasks to each team member.
Better Uptime
One of the main pros of this best uptime monitoring tool is its terrific customer support. Better Uptime is a 100% customizable tool and straightforward to use.
It also has a very intuitive and easy setup. Better Uptime is the best option if you want to generate weekly reports of your site. Plus, with it, you can also create status pages.
Datadog
This best uptime monitoring tool has terrific advanced features. One feature that makes this tool so special is the possibility to categorize the needs so users can set their expectations.
Also, it is worth mentioning that Datadog won the award for the leader in Gartner Magic Quadrant for APM and Observability in 2022.
The tool is also straightforward to use. It follows the site logins in real time, tracks users' flow, and monitors AWS resources. Additionally, users can create a customized dashboard and integrate the tool with many other apps.
Best Uptime Monitoring Tools – Final Verdict
This article presented you with the five best uptime monitoring tools. But, if we need to choose only one toll as the best uptime monitoring tool, we choose Uptimia.
Why? Because it offers terrific features that make uptime management simple. We will name only a few pros this uptime monitoring tool has compared to others on this list.
Uptimia can track websites based on the before-set-up frequency. The tool also has features that ease working in teams. Last but not least, Uptimia can triple-check detected issues across the globe.